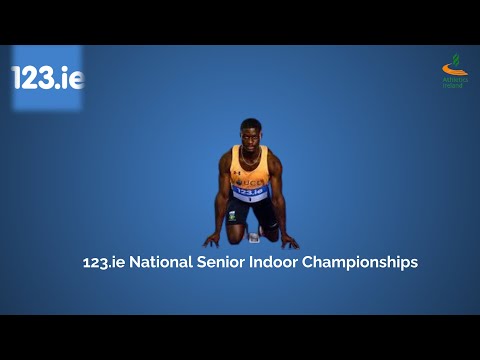 The stars of Irish athletics will descend upon the Sport Ireland National Indoor Arena this weekend for what promises to be a thrilling two days of competition at the 123.ie National Senior Indoor Championships (February 18th & 19th).
This year's championships will showcase some of Ireland's best athletics talent, many of whom will be will be looking to continue their early season form as they bid to qualify for the European Indoor Championships which are set for Istanbul from March 2nd – 5th 2023.
The competition on show across the track events will provide a heavy helping of its usual drama and excitement, but this weekend's field competitions could provide some of the most compelling clashes of this year's championships. Speaking at today's launch, Irish indoor pole vault champion, Matthew Callinan Keenan, said: "To win a national title is truly something special. As athletes we know the work that is put in to get to this level, and to see that rewarded by finishing top of a podium filled with quality athletes is something you dream of from your early days in the sport".
"We've seen the wave of young and exciting athletes coming through our sport at the minute and it's going to result in some healthy rivalries across all the events over the coming years. I'm looking forward to lining up against the guys in the pole vault again this weekend and it'll be just one of many events that goes right to the wire, so I'd encourage people to get their tickets and come along and watch it all unfold."
It promises to be captivating two days of competition with many athletes already showing great early season form as they ramp up preparations for international targets over the coming weeks and months.
Ireland's fastest man Israel Olatunde (UCD A.C) will return to the starting blocks in the 60m on Sunday, while 2022 European medallist Mark English (800m) is also set to take his place following a strong showing in Boston last weekend.
Ciara Mageean will miss out indoors as she focuses on preparations for a big outdoor season. Olympians Phil Healy (400m), Nadia Power (800m), Louise Shanahan (800m), and Andrew Coscoran (1500m) all return and will face plenty of strong opposition over the course of their events. Leading favourites Sarah Lavin (60mH) and David Kenny (5k Walk) will look to add to their national medal collections.
This weekend will also mark the first senior indoor championships sponsored by Athletics Ireland's new national partner, 123.ie, who have already heavily backed the promotion of the sport in Ireland.
Managing Director of 123.ie, Elaine Robinson said: "We are a proud partner Athletics Ireland – an organisation that supports communities in every corner of Ireland. We're delighted to sponsor the 2023 National Senior Indoor Championships and we hope that our support will make the difference for our incredible athletes of all ages. We're really excited for this weekend's athletics action. No doubt the atmosphere and competition will make this a wonderful event and we encourage sports fans to come along to see some of Ireland's top athletes in action on home soil."
CEO of Athletics Ireland Hamish Adams said: "I'm really looking forward to the National Senior Indoor Championships with our new national sponsor 123.ie. It's going to be a really exciting year for athletics, and we are in no doubt that spectators will be treated to some thrilling action in the Sport Ireland National Indoor Arena this weekend."
Video from the Athletics Ireland TV YouTube Channel